Best Day Trips from The Cove Lakeside Resort in West Kelowna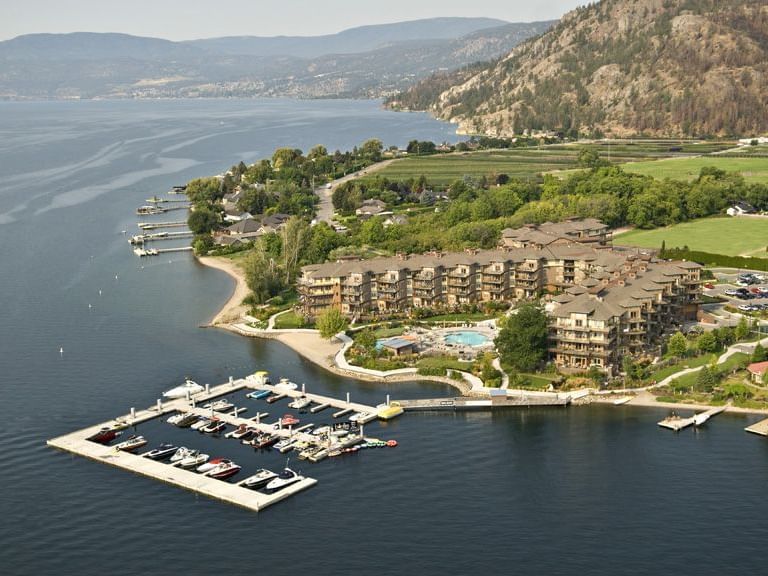 If you're looking to explore the stunning scenery of British Columbia and the Okanagan Valley, then West Kelowna is the ideal place to start.
Centrally located, there are endless opportunities for incredible road trips in any direction. For a day of adventure, pack your hiking boots, swimsuit, bicycle or kayak. If you'd rather enjoy a leisurely day trip, then bring your appetite for delicious Okanagan wine and food. No matter what you're looking for, the Okanagan Valley has something for everyone! Here are The Cove Lakeside Resort's top 5 day trip suggestions.
1. Summerland
2. Penticton
3. Osoyoos
4. Enderby Float
5. Okanagan Valley Wine Tours
Summerland: The Heart of the Okanagan Valley
Summerland is nestled in the heart of the Okanagan Valley. The short 30 minute drive from West Kelowna offers gorgeous views of the Okanagan Lake, spectacular orchards, vineyards, sun-drenched beaches, wilderness trails for biking and hiking, and world-class golf courses.
The Downtown core of Summerland is a quaint town that embodies a true sense of community and small town vibe. It features charming boutiques, delicious local restaurants, as well as several opportunities to explore the rich historical and cultural heritage.
Penticton: The Okanagan Summer Resort Town
Penticton is less than an hour south of West Kelowna - just 45 minutes from our resort! It is located between Okanagan Lake and Skaha Lake and surrounded by stunning mountain views. This long-established summer resort town is known as a summer hot spot and the centre of the burgeoning Okanagan wine industry.
Vacationers looking for adventure flock to Penticton for swimming, boating, windsurfing, kiteboarding, hiking, cycling golfing and rock climbing. Others visit Penticton to take advantage of the world-class wine tasting and dining, to visit galleries and museums and to take in the symphony, plays and concerts.
Osoyoos: Canada's Outback
From Penticton, Osoyoos is less than an hour drive. The drive itself offers absolutely stunning views of the mountains and gorgeous lakes. Along the way, take advantage of the endless wineries, orchards and fruit stands.
Once you've arrived in Osoyoos, you will immediately see why it is one of Canada's top destinations for soaking in the sun. Visit the Osoyoos Desert Centre, a 67-acre nature interpretive park that includes a 1.5-km elevated boardwalk where you can look out for rattlesnakes, coyotes and black widow spiders.

There are tons of outdoor opportunities, from trekking through desert trails, swimming in Canada's warmest lake, golfing, kayaking, paddle boarding, boating, fishing, cycling and more! Once you're adventured-out, spend some time exploring the charming boutiques, spas and restaurants in downtown Osoyoos.
Enderby River Float
Tube floating down the Shuswap River is one of the most popular activities in Enderby. The Shuswap River is a salmon spawning ground that runs between Mable Lake and Enderby.
There are a few different routes depending on how adventurous you're feeling or how long you'd like to spend on the water. It is the ideal place to spend a morning or afternoon.
As the weather warms up, locals and visitors can enjoy a leisurely float or more adventurous ride down the Shuswap River while taking in the stunning views.
Okanagan Valley Wine Tours
The Okanagan Valley is renowned for its world-class wine and picturesque vineyards. Authentic and unforgettable wine tours are at the heart of the Okanagan Valley experience.
For wine enthusiasts that have come to BC to discover Okanagan wine, explore our Discover Wine Package. The opportunities to indulge yourself are endless throughout BC's Okanagan wine region. Guided wine tours with well established tours, such as Distinctly Kelowna Tours or Okanagan Wine Country Tours, are the perfect way to indulge yourself in the finest wines.
Book your Okanagan Valley getaway at The Cove Lakeside Resort for the most unforgettable day trip and experiences.