Welcome to The Cove Lakeside Resort
Retreat To Our Luxury Okanagan Lake Resort
Whether it's your first time experiencing The Cove Lakeside Resort or you're returning to the place that holds countless vacation memories, you'll find this gem among Kelowna hotels and resorts to be the quintessential lakeside retreat. It's quiet and relaxing here on the shores of Okanagan Lake with spacious, private residence suites tucked among beautiful gardens. It's a place that feels completely removed from the modern world yet we're just a short drive from the shops and restaurants of downtown Kelowna.
The essence of The Cove Lakeside Resort and Spa is rustic luxury in an exhilarating setting. In fact, the tranquility of our surroundings soothes the spirit while an array of resort-style amenities makes it easy to do as much or as little as you like. You might follow a massage or a body treatment at the Spa at The Cove with a glass of local Okanagan wine on your private balcony or patio. Spend the day lounging by the main outdoor pool or splash with the kiddies in the adjacent pool and waterslide (Pools are open seasonally. Duration of operation may vary due to weather conditions). From tennis and a fitness room onsite to championship golf, world-class skiing, wineries and other fun activities nearby, there's something for everyone.
While many resorts in Kelowna are known for their recreational opportunities, unparalleled guest service and boutique-style hospitality are what set The Cove Lakeside Resort apart as a truly special place. There is always something new to discover, no matter the season. Whether you're visiting the Okanagan for a family vacation, a romantic getaway, a wedding celebration or a corporate gathering, you'll feel truly at home away from it all.
Our Specials
Browse our exclusive Kelowna vacation packages to enhance your next escape to The Cove Lakeside Resort. From romantic escapes and girls getaways to packages and special offers designed to take advantage of the Okanagan's four glorious seasons, there is something unique for every traveler.
Our Accommodations
The 100 one-, two- and three-bedroom private residences at The Cove Lakeside Resort are not your typical Kelowna hotel accommodations. With spacious condo floor plans that range from 700 square feet to 2,400 square feet (65 square meters to 223 square meters), featuring all the comforts of home, from fully equipped five-piece gourmet kitchens with wine fridges, and living and dining areas to in-suite washer and dryer and expansive balconies or terraces, they are more like your very own home away from home.
Slideshow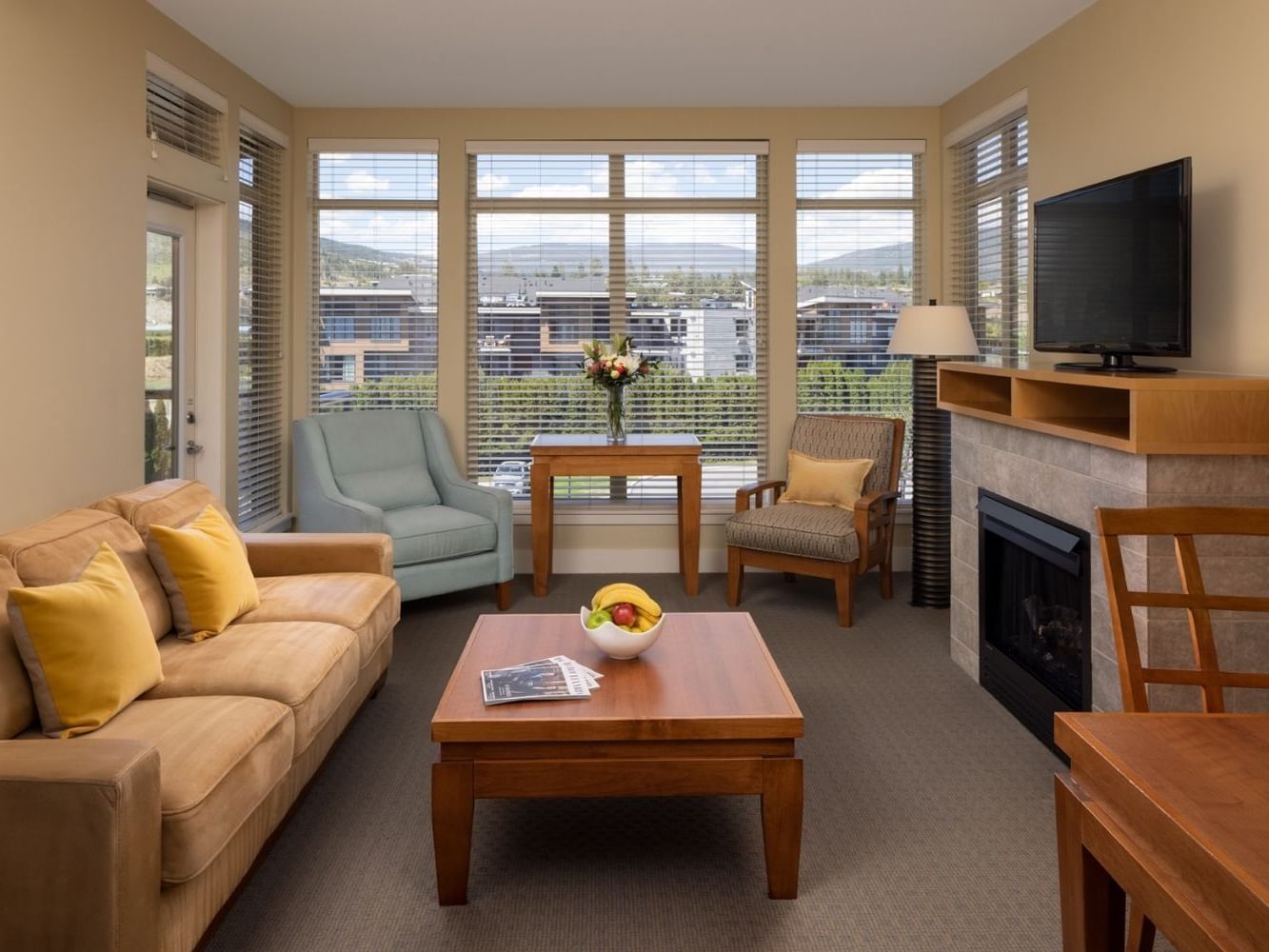 One Bedroom Mountain View Suite
Spacious interiors and elevated comfort define our mountain view one bedroom suite.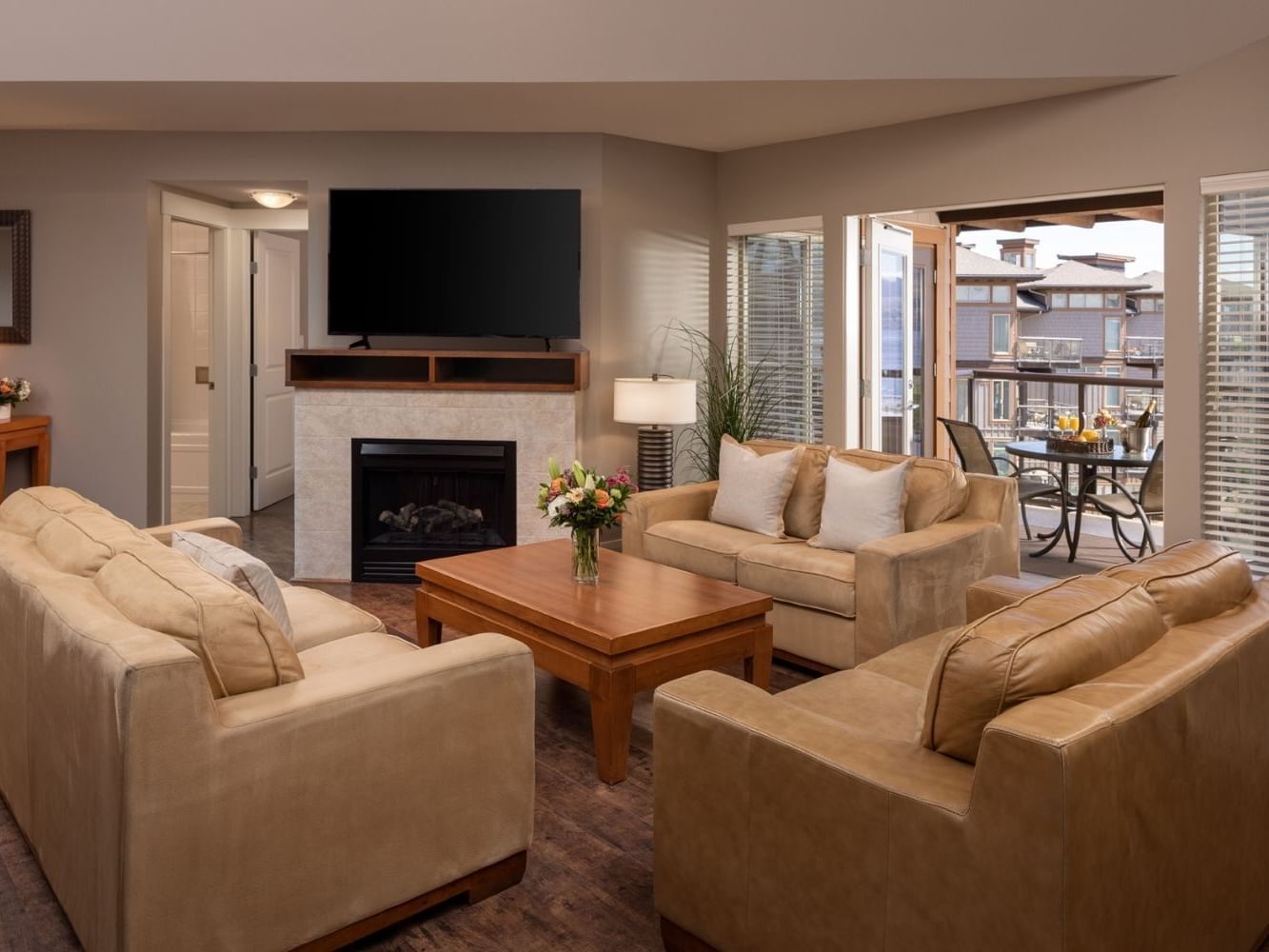 Two Bedroom Lake View Suite
Spacious interiors and elevated comfort define our lake view two bedroom suite.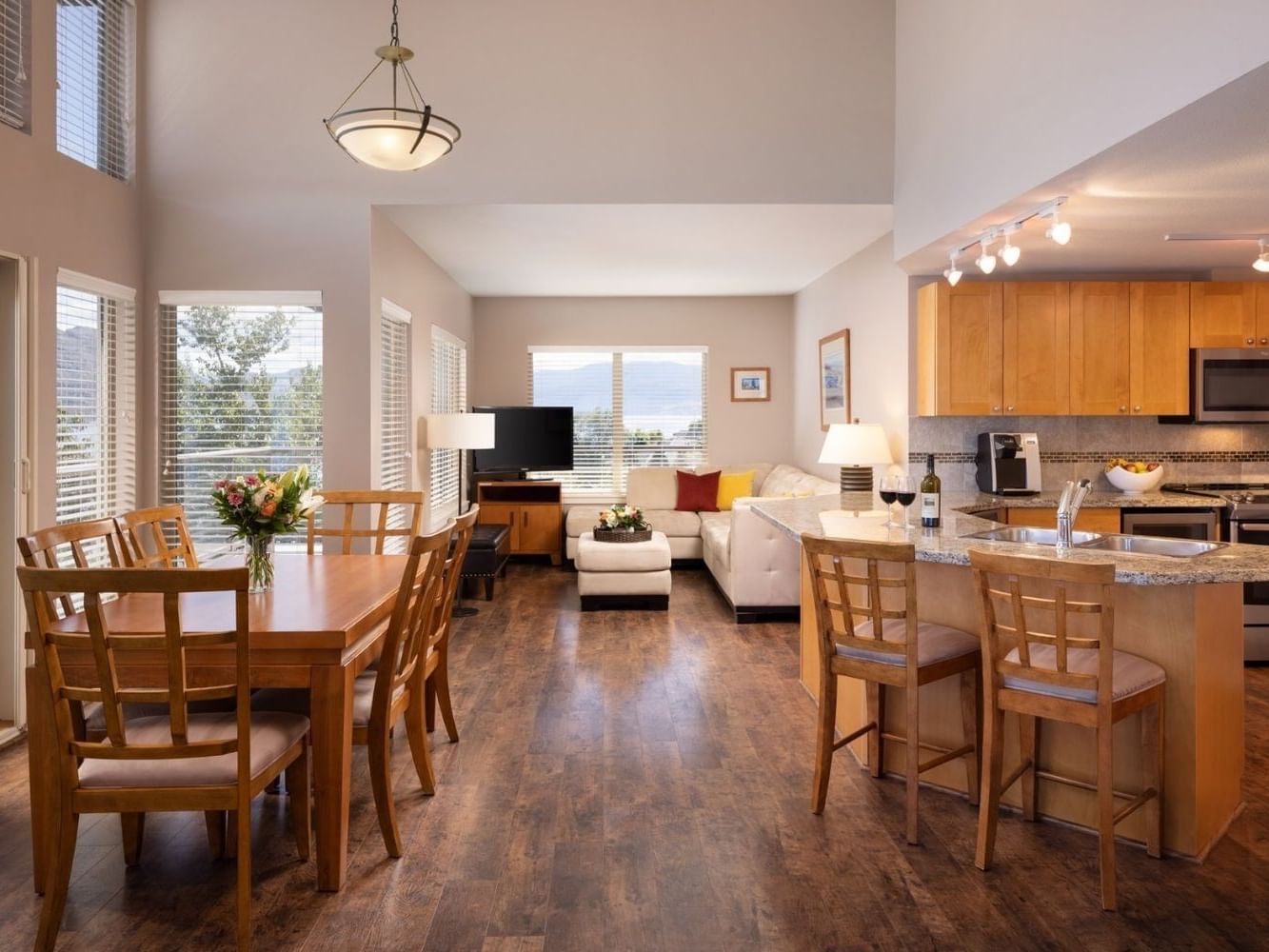 Three Bedroom Lake View Suite
Spacious interiors and elevated comfort define our lake view three bedroom suite.
A lovely and refreshing break!

We recently enjoyed a most pleasant stay at The Cove. We were impressed by the COVID-19 protocols in place. While services were reduced we appreciated the fact that the hotel had made guest safety a top priority. Our one bedroom suite was beautiful. It was comfortable and well-appointed. The view........ spectacular! We enjoyed walks along the lake and into the adjacent park which is full of nut trees. Recommended for anyone wanting a quiet escape.

- Rod
Awesome Place

This is our new happy place. It is a beautiful property on the lake, dog friendly, the front desk staff are awesome. Close to great wineries. We would love to live here and return every chance we get for vacations.
Jewel on the Lake

The Cove is quickly becoming my favourite Kelowna retreat. The staff is very friendly, and the views spectacular. I can't wait to get back again! Much more reasonably prices than others and with comparable facilities.

- Tracy
Mary Poppins perfect in every way

The Cove is a hidden treasure in the Okanagan. The accommodations are perfectly located on the lake with views from almost every room. The Cove is an intimate property but it offers large, multi-room suites with patios and well-equipped kitchens; great for vacations with friends and family. And anything you'd want to do, hiking, biking, boating, mani's, pedi's or a hot-stone massage - it's all on-site. We will definitely be back!

- Dana
Fully Enjoyed Our Stay

We visit often and have always been well received and enjoyed the various unit types and locations. One of our favourite treats is viewing the wide selection of dogs in the lobby and out for a walk with their owners.

- Lori S
Awards & Recognition
As a company, we have a strong commitment to the environment, our guests and our community. We are proud to have won various awards and recognitions for our hard work and commitment.
The Cove Lakeside Resort is a 2021 Traveller Review award-winner. The Booking.com Traveller Review Awards is an annual appreciation programme that recognises partners for their exceptional hospitality, as evidenced in the review scores left by travellers after their stay or experience.
Each year, TripAdvisor gives Travelers' Choice (previously Certificate of Excellence) awards to hotels, B&Bs and holiday rentals that show continued excellence in hospitality. Based on a full year of Tripadvisor reviews, The Cove is known for consistently receiving great traveler feedback, placing us in the top 10% of hospitality businesses around the globe. The Cove Lakeside Resort has received this award annually since 2012. We are also in the Hall of Fame, as a businesses that has received a Certificate of Excellence for five consecutive years.
The Cove Lakeside Resort is proud to have been awarded 3 green keys through The Hotel Association of Canada for our commitment to improving our environmental performance. We are a hotel that has shown national industry leadership and commitment to protecting the environment through our wide range of policies and practices. We have exceptional programs in place involving our management, employees, guests, and the public, which have shown substantial and measurable results in protecting our environment.
The Cove Lakeside Resort is ranked in the top-10 four-star hotels in Central Okanagan according to the TravelMyth hotel search algorithm, with an excellent 9.1/10 rating. Travelmyth is a hotel recommendation engine for sophisticated travellers seeking unique holiday experiences.
The Cove Lakeside Resort has achieved a Loved by Guests award from hotels.com for delivering exceptional customer service in 2018, 2019 and 2020. Hotels.com Loved by Guests global awards celebrate the properties that guests are excited to talk about. These awards are given to the "best of the best" partners - those who go the extra mile to delight travelers. The 'Loved by Guests' awards are based on verified guest reviews, and our guests have rated us among the very best, with a superb review rating of 9.4/10! The Cove Lakeside Resort is also recognized as a VIP property for offering exceptional customer service.
The opinions of our guests are very important to us and we are proud that 100% of Travelocity guests recommend The Cove.
With a pet-friendly, family-friendly, service-rich spirit and amenities that range from two outdoor seasonal pools and hot tubs, to tennis and basketball courts and the pampering Spa at The Cove, The Cove Lakeside Resort is an exhilarating getaway on the shores of Okanagan Lake.