Stunning Kelowna Wedding Venues
Say Your Vows Overlooking the Natural Beauty of Okanagan Lake
The four-season beauty and tranquility of Kelowna provide an unforgettable backdrop any time of year for your wedding at The Cove Lakeside Resort. Overlooking Okanagan Lake, framed by landscaped gardens and mountain views, we provide an Okanagan Valley wedding venue unlike any other in British Columbia. During the spring and summer, views of the sparkling lake at sunset inspire gatherings large and small. Fall brings an orchestra of color to the trees surrounding the resort. When the temperature drops, the snow-draped landscape creates a cozy winter wonderland for your gathering of family and friends.
Allow us to enhance your vision of your special day with a ceremony on our beach along the shores of Lake Okanagan or within our gorgeous Gellatly Gardens. Enjoy cocktails in the Gardens and Gellatly Terrace, followed by a reception in the Grand Reserve Ballroom or within our signature Gellatly Garden Marquee and retire to your honeymoon suite after your day of celebration. We are happy to arrange special rates on accommodations for your guests and planning assistance for wedding party outings, rehearsal dinner, brunch, group outings and activities, and local tours throughout the Kelowna area.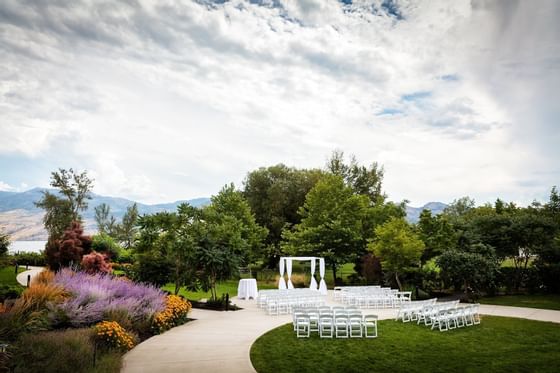 Gellatly Garden
A handcrafted garden oasis of winding walkways and flowering shrubs leads you to the wedding arbour and ceremony venue for up to 100 guests.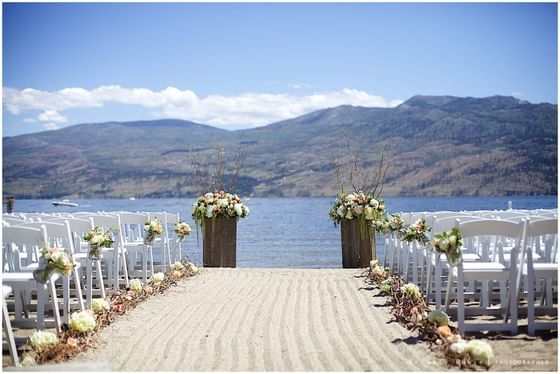 Beach
A picturesque sandy beach on the shores of Okanagan Lake make this The Cove's signature ceremony venue for up to 100 guests.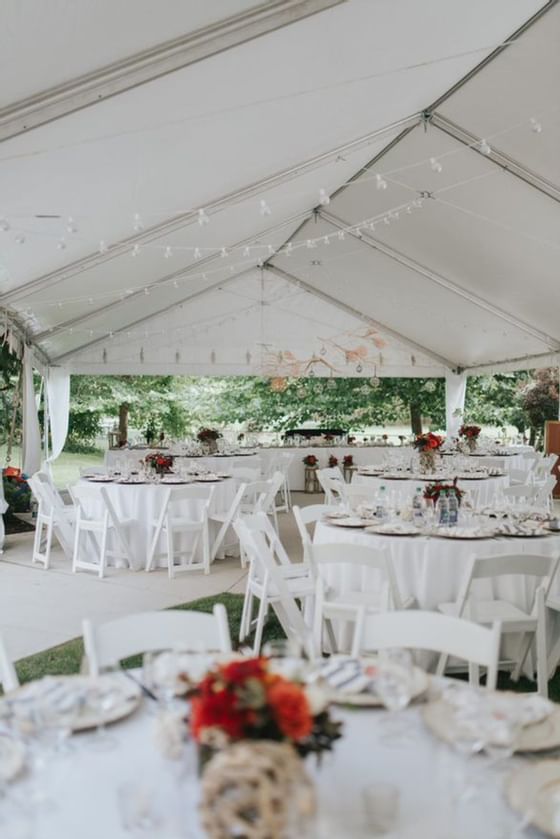 Gellatly Garden Marquee
Delight in an alfresco dinner under the big tent for a true garden dinner experience. It is dinner party perfection for up to 100 guests.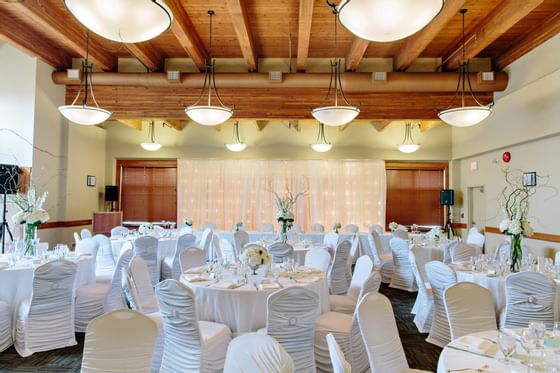 Grand Reserve Room
Dazzle your guests in this warm earth-toned room featuring natural lighting, vast 20-foot vaulted ceiling and a private terrace. Dining or cocktails and dancing for up to 100 guests.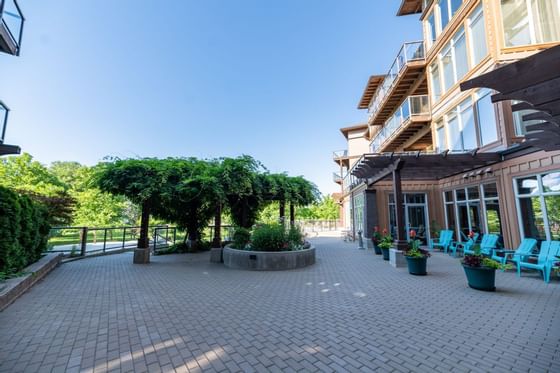 Gellatly Terrace
Outdoor cocktail parties for up to 70 guests, with scenic views of our garden oasis, the historic Gellatly Nut Farm and Okanagan Lake.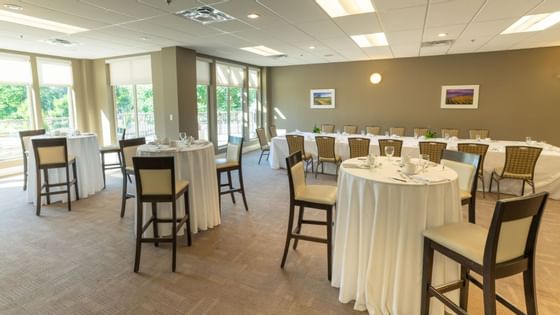 Gellatly Reserve Room
Natural lighting highlights this venue with large picture windows overlooking our Gellatly Garden and mountains beyond. Ceremonies and cocktail parties up to 100 guests.
Breathtaking Beach Front Resort

My husband and I wanted to get married on a beach, preferably in Mexico or something to that liking. However, some family health issues had us reconsider travelling outside of Canada and took us to find a beach front venue in the Okanagan instead. The pictures of The Cove Lakeside Resort do not do the property justice. We got married on the Beach, had cocktails on the Gellatly Terrace, and dinner in the Grand Reserve Room. It was everything we could have asked for and more! From the waves in the background while we said our I do's on the beach, to taking our bridal party photos on the property and next door at the Gellatly Nut Farm (GREAT place to take pictures), and ending the evening in the Grand Reserve Room, it was the perfect venue. As every wedding does, there were a few hiccups along the way, but Terry Pritchett, The Cove's wedding coordinator was absolutely FANTASTIC! With the exception of a Day of Coordinator, I planned my own wedding. I am thankful he was he was quick to respond, courteous and always made time to answer any questions I had. Both Patrick & Elizabeth were also extremely helpful the day prior during our rehearsal & the day of. My only word of advice for future brides - if your guest list is upwards of 95/100 guests, know that the Grand Reserve room is a "cozy" room - we had 95 guests, and it was great for dinner and speeches, but come dance time, we asked The Cove to put away 2 tables so we had extra room to tear up the dance floor. But all in all, I am so happy we picked The Cove for our special day and thank everyone who made our dream come true :)

- Rebecca V
Outstanding

We highly recommend planning your wedding at The Cove Lakeside Resort!! They were so easy and professional to deal with and very responsive - which made planning our wedding easy - especially being in Calgary!

- Lisa B
Best experience!!

We hosted our reception here at the Cove. Terry Pritchett was so so helpful. He was very responsive and very accommodating to what we wanted. He gave us a great deal. We had a lot of our guests stay at the hotel for a discount and everyone felt spoiled during their stay. The grand room was transformed with stringed lighting (we put up ourselves), long tables with greenery and candles everywhere. Our wedding was 110 and it fit everyone perfectly and felt so cozy. Food was amazing. I have no regrets about our decision!!! I just wish I could relive the day!

- Karen
Amazing place to have our wedding!

I was married at The Cove on June 28th 2018, it was an amazing place to have our wedding! From the beginning, the coordinator we talked to, Terry was very efficient, he always made sure to get back to me right away with any question or request. On the day of our wedding, everything went smoothly and as planned. Our bridal party stayed in 2 rooms the night before the wedding and the rooms were fantastic! Lots of space to get ready for your wedding or finish up last minute prep. We had 4 of us girls, a makeup artist and hair dresser and family coming in and out of the room and there was plenty of space. The staff were amazing, they called our room to make sure everything was good and also held doors for us while I entered the garden to be married and I heard many words of congratulations from staff as well. The food was out of this world, local and so fresh! All our guests were raving about the food the next day and about the whole experience! I would recommend The Cove to anyone looking for a great venue where you can have your ceremony, reception and a place for your guests to stay!

- Alicia
Cove Wedding

Our wedding experience at The Cove was flawless. So glad we chose this location, our memories are priceless and we still crave the excellent food that they served! What a great team of people at The Cove.

- Brittney
Wedding Accommodations
Guests never have to worry about being late for your big day when they stay here at our lakefront resort. The Cove provides luxurious, spacious 1, 2 and 3 bedroom suites offering an array of scenic views, perfect to accommodate larger families and weddings.

Without ever leaving the resort, guests can enjoy indulgent massages and body treatments at the Spa at The Cove, swimming in our two outdoor lakefront pools and hot tubs, fresh cuisine at our restaurant, exhilarating watersports at LakeSurf Okanagan, outdoor fire pits and BBQ's and more. Spacious, condo-style suites, a fully equipped fitness room, pet friendly rooms, tennis courts and a putting green complete The Cove experience.

Located near a variety of golf courses, wineries, outdoor recreational activities and more, there's never a dull moment during your stay and plenty of perfect spots for a bachelor or bachelorette party. Come discover a truly unforgettable destination among Kelowna waterfront hotels and experience all the Okanagan has to offer.

Special wedding accommodation rates are offered to your guests.
Cove Weddings
We strive to ensure that your wedding is the most perfect day imaginable so that you and your guests will continue returning again and again for anniversaries and other trips, to explore everything our great resort and surrounding area has to offer. Our team at The Cove Lakeside Resort is passionate about producing extraordinary and memorable wedding experiences.

We look forward to providing you with a picture perfect Okanagan wedding experience here at The Cove Lakeside Resort.
#RealWeddings at The Cove Lakeside Resort
Nothing can compare to the real weddings and extraordinary moments shared by couples who say "I do" with us.