Pet-Friendly Accommodations in West Kelowna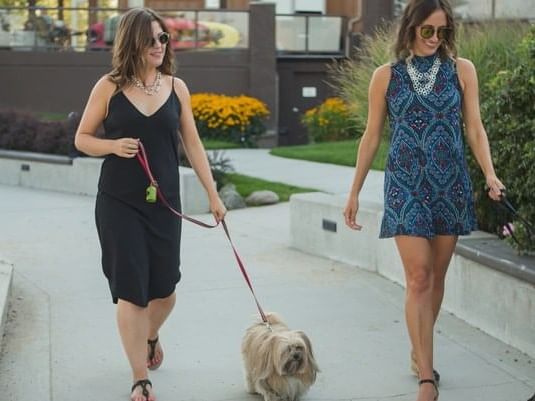 The Cove Lakeside Resort in West Kelowna provides tranquil surroundings that soothe the spirit while an array of resort-style amenities make it easy to do as much or as little as you like. The condo style suites at The Cove are not your typical hotel accommodations. With spacious floor plans that range from 700 square feet to 2,400 square feet, encompassing fully equipped five-piece gourmet kitchens with wine fridges, upscale furnishings, living and dining areas and expansive balconies or terraces, they're more like your home away from home.
If you're anything like our animal loving team at The Cove, you probably know a vacation isn't the same without your furry companion.
That's why we offer pet-friendly accommodations, so your furry friend can tag along on your next travels to the Okanagan. We allow up to 2 dogs in our pet friendly suites. Call directly for more information on our pet-friendly accommodations and learn more about all the nearby activities that make The Cove the perfect spot to vacation with your pet in tow.
West Kelowna Dog Parks
West Kelowna is home to many dog friendly parks and trails. A majority of the West Kelowna parks and trails allow dogs on-leash, while there are 3 off-leash dog parks for your dogs to run around or take a swim in the hot summer temperatures.
The Gellatly Dog Beach area is just a short walk away from The Cove Lakeside Resort, along the beautiful waterfront, and is the perfect spot for off-leash dogs to have a dip in Okanagan Lake. There are benches and picnic tables to use during playtime with your four-legged friend.
The Westbank Centre Park, just a 5 minute drive from The Cove, is home to the Kids Care Spray/Water Park, a Community Garden and an off-leash dog area. Shannon Woods off-leash dog area is open year round. This area also has a field for soccer or football; bring a ball or your dog's favourite toy and enjoy a game of fetch! Kalamoir Regional Park is a 10 minute drive from the resort and there are two designated dog beaches in this park.
West Kelowna is surrounded by stunning nature, which makes it the perfect place to discover the endless outdoor pursuits that the region has to offer. No matter what kind of adventure you and your pup are looking for, you're sure to find it nearby!
Dog Friendly Wine Tour
Do you want to take your dog with you absolutely everywhere while on vacation? A trip to the Okanagan isn't complete without visiting a few wineries, and luckily there are dog-friendly options in the area along the Westside Wine Trail.
At Kalala and the hatch, dogs are allowed as long as they are on a leash. Your furry family members are also allowed on leash at Rollingdale and they may even meet a new friend, Bella, the winery dog there.
At Volcanic Hills, dogs are allowed on-leash in some areas of vineyard, but not in the wine shop, though they are happy to offer your furry friends some drinking water! At Quails Gate and Beaumont Winery, dogs are allowed outside of the tasting room and they even have a water bowl available outside for your thirsty pup.
Be sure to call ahead to the wineries before before bringing your four-legged friend. What better way to enjoy Okanagan wine than with than your best friend by your side.
The Cove Lakeside Resort: Pet-Friendly Accommodations
Enjoy the relaxation of a secluded lakeside getaway and the luxury amenities of our world-class resort with your dog by your side when you stay at The Cove Lakeside Resort.
When you check-in with a canine companion in tow, your pet will receive a special welcome amenity which is sure to get tails wagging. A $20 fee per night will be applied when booking one of The Cove Lakeside Resort's pampered pet rooms.
Tucked along the shores of Okanagan Lake and just 15 minutes from the shops, restaurants and cultural attractions of downtown Kelowna, The Cove Lakeside Resort is the ultimate getaway destination to spend with your favourite furry friend.
Want to bring your dog with you on your next vacation to Kelowna? Call toll-free at 1.877.762.2683 for your pet-friendly accommodations at The Cove Lakeside Resort.