The Ease of Corporate Planning at The Cove Lakeside Resort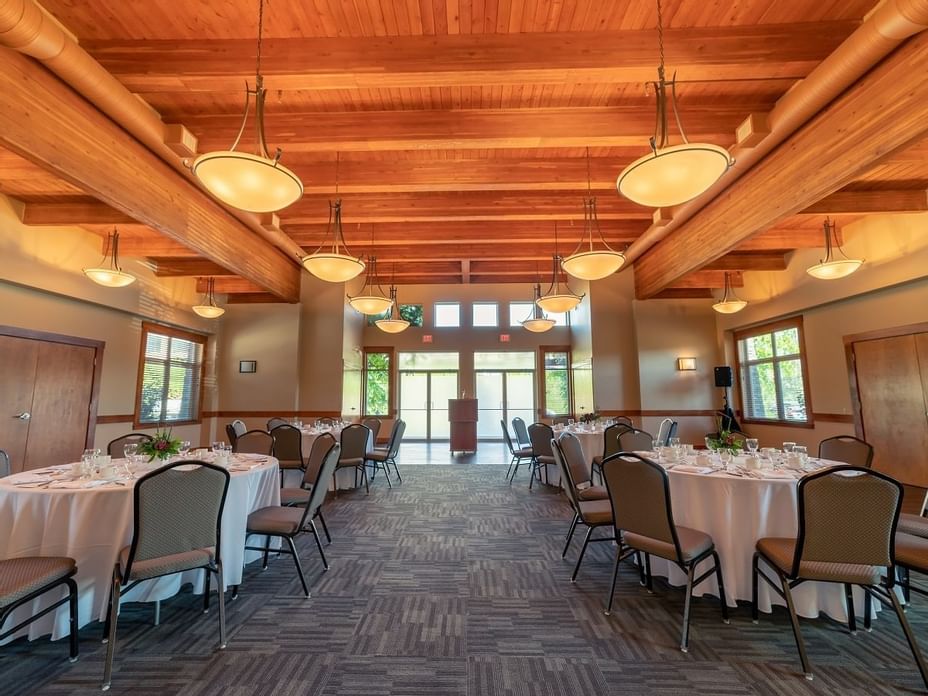 We all need a break from our daily routines to access and improve our well-being. At The Cove Lakeside Resort in West Kelowna, we assist with everything from transportation and group activities to event planning and exceptional group rates. Our dedicated and experienced team will deliver the perfect event or retreat on-site and off-site with the assistance of our loyal local partnerships.
Our retreats are designed to help you recharge, connect, and enjoy your time outside of your usual routine in a meaningful way. Whether you're planning a small business meeting or a series of large corporate events, we exceed expectations and ensure event planning runs smoothly and with ease.
Take a look at the reasons why The Cove Lakeside Resort is the perfect one-stop-shop for your next corporate retreat.
Perfectly Planned Corporate Events at The Cove
The range of venues with beautiful surroundings offered at The Cove Lakeside Resort in Kelowna, is just one of the many amenities that set us apart. Each of our unique meeting and event venues looks out over gorgeous views of Okanagan lake, mountains and garden views. All function rooms offer natural lighting and complimentary Wi-Fi. State-of-the-art audiovisual equipment and support are available through our preferred supplier.
Our team will provide customized event planning services, including recommendations and referrals for décor companies that will transform your event space into a warm and inviting atmosphere. Whether it's a corporate retreat, conference or team building session, your event is sure to be one you and your guests won't soon forget.
Elevated Experiences at The Cove
Studies have found retreats have significant benefits on participants for up to 6 weeks, post-retreat. We aim to provide guests with a unique opportunity for you to escape daily routines, engage in enjoyable group activities, and leave feeling recharged and motivated. We offer a variety of on-site amenities
The Spa at The Cove Lakeside Resort in West Kelowna features Aveda-trained therapists for the ultimate experience.
This quiet refuge is a warm, tranquil sanctuary overlooking the lush Gellatly Gardens and Okanagan Lake. The beautiful setting, a range of treatments, and exceptional therapists make the spa the perfect place to ease away tension and leave your body and mind feeling thoroughly rejuvenated. In addition to a full menu of treatments and therapies, The Spa at The Cove features men's and women's locker rooms, a relaxation area and an infrared sauna.
Enjoy a private dinner and business functions, catering services, or in-house dining at our restaurant. Savour the seasons of the Okanagan, amazing waterfront views, superb ambiance and extraordinary, local and fresh cuisines.
Dine in the warm and inviting main restaurant, grab a cozy table in the intimate lounge or relax on the stunning seasonal outdoor patio with panoramic views of the courtyard fountain, lush gardens and Okanagan Lake.
Contact The Cove Lakeside Resort to learn more about catering services, new catering menus made with fresh, local ingredients, and private business functions.
Corporate Retreat: Tailored Group Activities
The Cove Lakeside Resort proves that you don't need to go far to feel like you're far away, making it the perfect setting for your next corporate meeting, event, or retreat. Whether you're visiting from afar with flights into YLW, or taking a local retreat, we provide quality transportation recommendations and exceptional customer service from the moment you arrive, to the minute you leave. Located on the western shore of Okanagan Lake, The Cove Lakeside Resort is just 15 minutes from downtown Kelowna and half an hour from Kelowna International Airport.
In addition to tailored on-site planning, we provide support for you to arrange a variety of group activities that fully capture the essence of the Okanagan lifestyle. Our sales and event team will collaborate and coordinate in order to deliver the ultimate off-site experience.
Our services include arranging quality transportation and planning a range of group experiences with our tourism partners for great group rates, including wine tastings, private dinners, skiing excursions, and corporate team building activities. Enjoy a day of wine tasting along the Westside Wine Trail with one of our partners, Uncorked Okanagan or Okanagan Wine Country Tours, snowshoeing and cross-country skiing at Telemark Nordic Club, or an exciting day spent with Okanagan ATV Tours.
Looking for team building activities and events? Our corporate team building partners, Cantrav, Eventology, Hoodoo Adventures and Corporate Play People, all provide a variety of unique team building activities and games, corporate event challenges and team building experiences designed to increase team morale and inspire corporate groups.
We strive to ensure that your event is the best imaginable so that you and your team will continue returning again and again to explore everything our great city and surrounding area has to offer.
Our team at The Cove Lakeside Resort is passionate about producing memorable corporate meeting and event experiences. We are exclusive and original, and we take meetings and events to the next level. Most importantly, we save you time and help you shine by offering you a virtual home office in the heart of the Okanagan.
We want to make your meeting, corporate gathering, team building getaway or retreat the best trip imaginable. Contact us at 250-707-1814 to begin planning your next corporate event at The Cove Lakeside Resort.