Wander into Winter at The Cove Lakeside Resort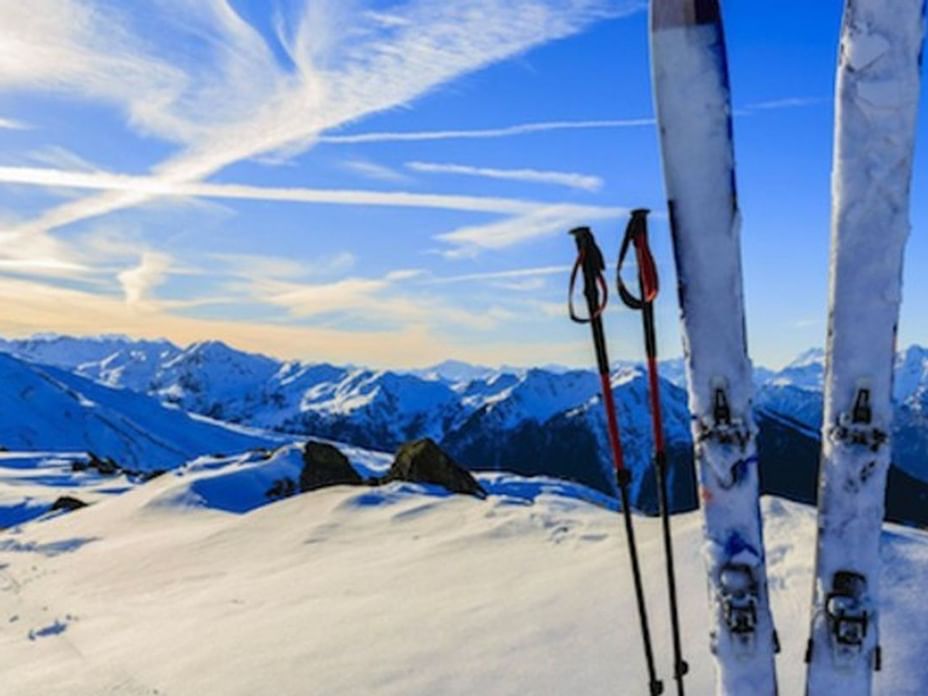 The Okanagan Valley is a top Canadian destination year-round due to its stunning nature, unbelievable snow peaks, mild climate and endless winter activities. At the heart of the valley, The Cove Lakeside Resort is the ideal place for your winter weekend getaway, staycation, or holidays away from home.
At The Cove Lakeside Resort, we recognize the benefits of connecting with nature and taking a wellness getaway during the winter. Escape to The Cove with our exclusive Wander into Winter Packages. Book your stay and explore the winter wonderland of the Okanagan.
We've compiled a list of the health benefits of getting outdoors this winter season that you can enjoy with your family and friends when you book at The Cove Lakeside Resort.
The Benefits of Your Winter Getaway
Leaving your routine for a quick change of scenery is the perfect way to recharge and return home feeling refreshed. Winter trips to The Cove are a great way to discover all the sights and activities the Okanagan has to offer.
Whether you're planning a quick weekend staycation or visiting the Okanagan from afar, getting out of your normal environment and routine offers incredible health benefits including reduced stress, increased energy and mood levels, and improved mental and physical health.
Some other great ways to reduce stress and improve physical health are to book your treatments with Spa at The Cove and visit our on-site fitness center. The spa offers a range of treatments from facials, and body wraps to esthetic services and massage, all sure to be an incredible treat for your mind and body after a day in the snow. Our well-appointed fitness center features Precor equipment, free weights, an elliptical trainer and a treadmill, so you can still get your workout in even on vacation.
The Cove Lakeside Resort in West Kelowna offers guests breathtaking views of the Okanagan Lake, luxurious one, two and three bedroom suites and tons of recreational opportunities.
Wander into Winter with Telemark Nordic Club
Winter is one of the Okanagan's most gorgeous seasons. Take advantage of the stunning snow peaks, mild weather and endless outdoor winter activities when you retreat to The Cove this winter. Enjoy panoramic views from our luxurious rooms and the health benefits of a vacation away from home. Just fifteen minutes down the road you will find Telemark Nordic Club, one of the top destinations for high-level cross-country skiing and snowshoeing in Canada.
Take advantage of extensive trails for all skill levels, including some pet-friendly trails, and enjoy the serene Okanagan Valley covered in a beautiful blanket of snow.
Explore Okanagan Powder
Take advantage of The Cove Lakeside Resort's central location and close proximity to three amazing ski resorts, all within approximately a one hour drive.
Big White Ski Resort is the second largest family ski resort in British Columbia with one of Canada's largest, modern lift systems. The mountain's amazing 2,765 acres of skiable terrain offers impeccably groomed runs suitable for downhill skiers of all abilities. Book your shuttle to the mountain from Cheers Okanagan tours for just $49 per person return, with pick up and drop off right from The Cove Lakeside Resort.
Silver Star Mountain Resort, with its champagne powder and varied terrain attract every kind of skier to BC's third largest ski area. The colourful mid-mountain village offers a true ski-in, ski-out access to the slopes, and Canada's first all-inclusive lift ticket provides affordable, family-friendly fun for guests. With four distinct mountain faces and 132 runs, the progressive terrain is perfect for learning. For the more adventurous, the backside of the mountain is an uncrowded paradise of over 1,900 acres of steep and deep, black and double black diamond runs.
Apex Mountain Resort is south of The Cove, just outside of Penticton. Apex receives the perfect mix of large amounts of precipitation, combined with low humidity and the dry champagne powder snow we're famous for, is born! And because Apex Mountain Resort is the only mountain in the Okanagan that faces northeast, those beautiful powder snow crystals are less affected by the sun and the famous light, dry powder snow can survive for days after a snowfall. With an average of 600 cm of this special snow falling each season, Apex provides the moderate winter conditions and dry power snow craved by skiers and snowboarders alike.
Sip Okanagan Wine
Spend the day taking scenic photos of the snow covered mountains while sipping on delicious local wine for the ultimate winter experience. Enjoy the beauty and serenity of quiet tasting rooms in the winter season and book a wine tour with one of our preferred partners.
Enjoy a chill and fun tour with Uncorked Wine Tours, to experience West Kelowna's Westside Wine Trail or book with the Okanagan's first wine tour operator, Okanagan Wine Country Tours, to experience Kelowna's Lakeshore Wine Route.
As you're planning your Okanagan wine tour, be sure to ask about ice wines and which wineries produce and sell it. Icewine is traditionally a unique sweet wine produced from the juice of naturally frozen grapes that are grown and picked in ideal winter conditions. It's the perfect treat to pair with a charcuterie and cheese board from Bonfire Restaurant.
Wander into Winter with Special Winter Packages at The Cove Lakeside Resort
Wander into the winter with one of our special winter packages. It's the perfect way to explore the gorgeous snow peaks and reap the benefits of the outdoors and a vacation away from home. Take advantage of one our winter packages today.
Indulge in the Okanagan winter with accommodations in a cozy and luxurious suite and a day of adventure in the snow at Telemark Nordic Club. Wander Into Winter Packages include a one night stay, a gift of welcome hot chocolate and a Cove branded thermos, cross-country ski or snowshoe passes and rentals at Telemark for 2 adults, and a $25 credit per adult to Bonfire Restaurant.
Ski-enthusiasts that have come to BC to discover Okanagan snow peaks, explore our Wander into Winter Packages and our central location to many winter activities. The opportunities to indulge yourself are endless throughout BC's Okanagan snow peaks.
Book your winter trip at The Cove Lakeside Resort for the most unforgettable winter escape and experiences.