Benefits of a Summer Yoga Retreat at Your Kelowna Resort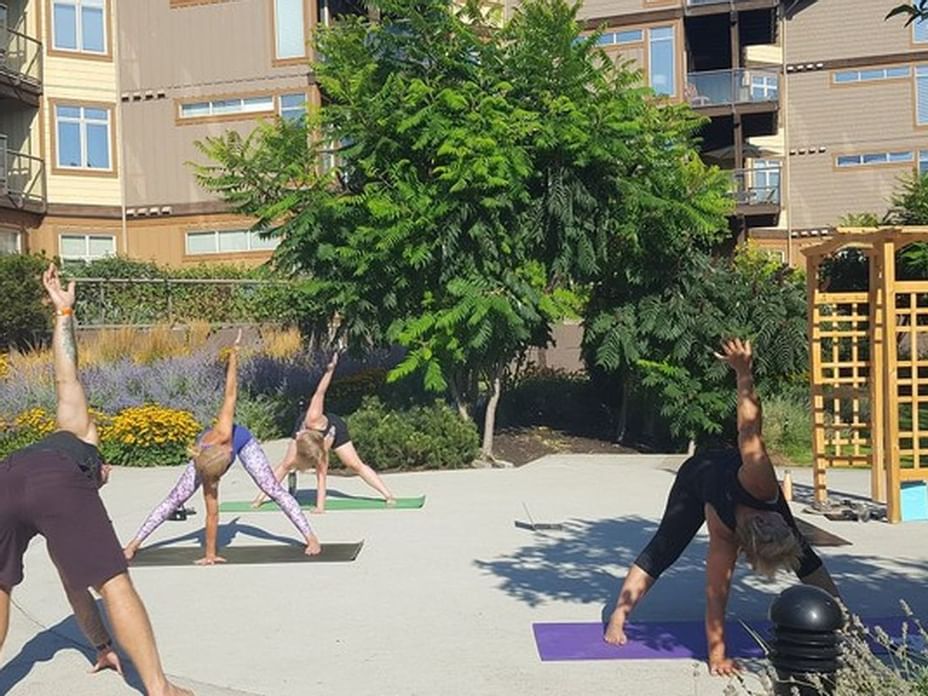 Taking a break from daily stressors to attend a yoga retreat is an exceptional way to rejuvenate your body and practice mindfulness. At The Cove Lakeside Resort, we recognize how beneficial practicing yoga is for our guests. Attending a yoga retreat at our resort will offer a transformational vacation unlike any other!
Our Kelowna team has carefully crafted yoga-retreat packages that vary from 4, 5 or 7 days as well as optional drop-in sessions throughout the summer. Our ultimate Yoga Retreat sessions will be held on the shores of Okanagan Lake for a uniquely stunning and relaxing retreat experience.
Here are 3 reasons why a yoga retreat at The Cove Kelowna resort will be the most beneficial getaway you take this summer.
Physical Wellness & Health

Mental Wellness

Connection With Nature
Physical Wellness & Health
Yoga is one of the oldest and most practiced forms of physical activity. It is believed to have originated in India during the Golden Age, nearly 26,000 years ago. The purpose is to find peace within yourself by focusing on the union between self and spirit. When you tap into your inner peace, you will benefit from a myriad of physical advantages.
Practicing yoga regularly increases your health and body awareness. Additionally, yoga will increase your flexibility, strength, stamina, relaxation and balance. It also has the ability to reduce stress and joint pain, therefore contributing to your overall health.
Mental Wellness
Yoga also has exceptional benefits for your mental wellbeing. Yoga gives you space to detox digitally, which will promote a positive mental state.
By focusing on your mental wellbeing through calming and mindful practices, you can recharge and cleanse any negative patterns that are affecting your demeanor and mood. Silence is one of the most effective medicines in the fight against stress. By the end of your yoga retreat, you will have the resources and inspiration to bring your yoga practice into your daily life for a more mindful and profound daily existence.
Connection With Nature
Studies have found that practicing yoga in an outdoor environment is an excellent way to maximize the benefits of your yoga practice.
Fresh air heightens our spacial awareness and replenishes energy levels. Furthermore, viewing the beautiful mountains, lakefront views and natural scenery releases endorphins that will improve your overall health. The beautiful lakefront views at The Cove will melt your stress away and take your yoga practice to the next level!
Kelowna Resort with Lakefront Views
Join us on the shores of Okanagan Lake for a drop-in session, 4, 5 or 7-day retreat! Each week a guest instructor will share their knowledge and passion in an Ashtanga inspired week that will challenge your body, spirit and mind.
Yoga at The Cove is a time for rest, relaxation and mindful yoga in the heart of wine country! Individual drop-in sessions, $15 per class, 4-5 days of unlimited yoga sessions, $99 and 7-days of unlimited yoga sessions, $175.
This year's dates and instructors are as follows:
June 12 - 19: Jelena Vesic & David Robson
Aug 2 - 9: Mel James
Aug 11 - 15: Angela Plaquin
August 16 - 23: Brandon Jacobs and Heather Grazley
Aug 23 - 30: Geoff MacKenzie
Contact Norma Lachance to book your yoga, wipcoaching@gmail.com.
Call The Cove Lakeside Resort at 250-707-1800 for accommodation bookings and inquiries.