Choosing the Perfect Kelowna Meeting or Event Venue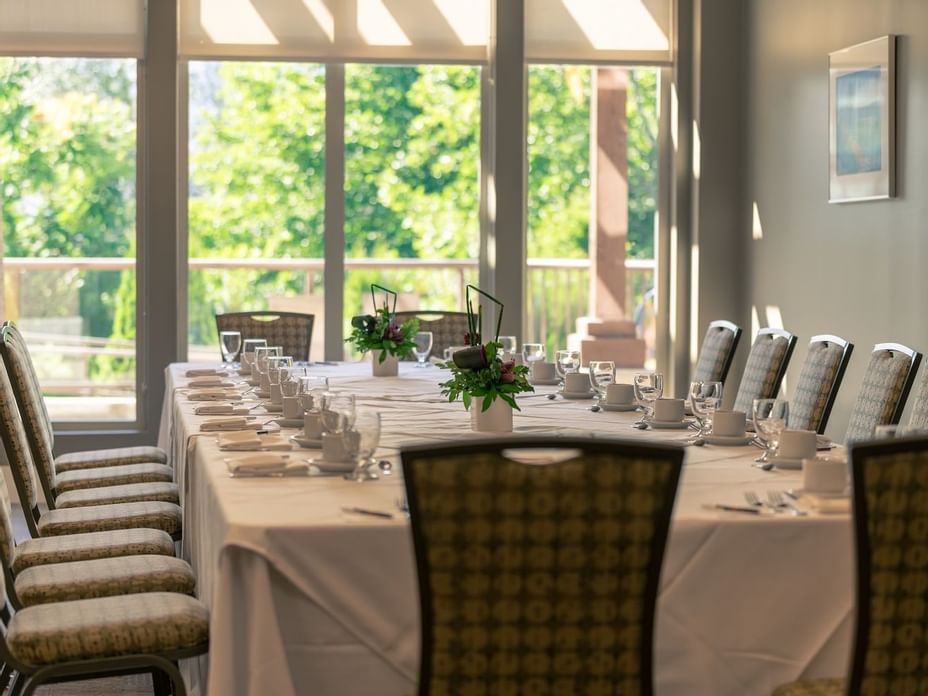 Finding and securing venues for meetings and events can sometimes seem like a difficult task, when you are required to offer your company both value for their money and a fantastic overall event experience.
About 40 minutes east of Vancouver by air, Kelowna is the principal city of central British Columbia's scenic Okanagan Valley, the third largest urban center in the province and home to Canada's 10th busiest airport. This makes it a fantastic location to host your next meeting, event or retreat. Kelowna also packs a range of distinct properties into the city, helping planners meet specific goals in memorable settings. The Cove Lakeside Resort hosts picture-perfect events in a beautiful lakefront setting. Whether it's a corporate retreat, a conference or a team building session, even a family reunion or a wedding, your event is sure to be one you and your guests won't soon forget.
The Cove team offers a few pointers and questions which business travellers should account for when considering and booking a venue for their next Kelowna event.
Budget
The best place to start when planning an event and looking for the perfect event venue is looking at your event budget. If you have a set budget, let the venue know ahead of time.
The amount of funds that you have to play with will determine all the details of your event. By constructing a budget beforehand, you can keep track of all your finances and avoid unwanted surprises down the road. There are many aspects to consider at this stage including catering, AV equipment, meeting room rental, accommodations, group activities, etc.
A detailed budget will give you peace of mind but it will also be a powerful tool to show your boss or client before the planning progresses any further.

Objectives
Every conference, meeting, retreat, or event is different. Start with your end goal in mind as this will assist in selecting the appropriate venue.
Why have you been assigned the task of planning this event? What are you hoping to accomplish with the gathering? Perhaps you are gathering the various branches of your corporation in one location to share insights and plan for the future? If you are planning a corporate retreat, are you focusing on employee recognition or looking to blow off some steam and build relationships within your team?
In addition to tailored on-site planning, The Cove provides support for you to arrange a variety of group activities that fully capture the essence of the Okanagan lifestyle. Our sales and event team will collaborate and coordinate in order to deliver the ultimate experience both on and off-site.

Location
Is the location of your venue easily accessible for all guests? Do they provide free parking? Is the location quiet? Is it close to or does it offer accommodations?
The Cove Lakeside Resort is centrally located in the Okanagan Valley, with easy access to cities in all directions, from Osoyoos or Penticton, to Merritt, Kamloops or Vernon. We are also just a short 30 minute drive from Kelowna International Airport, making it easy for delegates from coast to coast to meet. Whether you're visiting from afar with flights into YLW, or taking a local retreat, we provide quality transportation recommendations and exceptional customer service from the moment you arrive, to the minute you leave.
The Cove offers complimentary ground level and secure underground parking to all guests.
It's quiet and relaxing here on the shores of Okanagan Lake with 100 spacious, residence-style suites tucked among beautiful gardens. It's a place that feels completely removed yet we're just a short drive from the shops and restaurants of West Kelowna and downtown Kelowna.

Space/Size
Does the location have the proper meeting facilities to host your event? Are the spaces large enough to comfortably fit all guests? From a small business meeting or lunch to a larger corporate event, various meeting space sizes ensure your event is hosted in the perfect space to accommodate your needs.
The Cove has plenty of function spaces from our Library Reserve, ideal for small meetings and intimate events, to our outdoor Gellatly Gardens venue, ideal for seasonal receptions, breakfasts, lunches and dinners. Our team will ensure your event is booked into the perfect meeting venue.

Audio Visual
Does the venue offer equipment such as screen, projector, speaker system, whiteboard, stationery, etc.? Does the venue offer wifi internet access?
Each of our unique meeting and event venues is set against a backdrop of inspiring lake, mountain and garden views. All function rooms offer natural lighting, state-of-the-art audiovisual equipment, and complimentary Telus Optik Wi-Fi.

Catering
Does the venue offer catering options? Can they cater to those with specific dietary requirements or restrictions?
At The Cove, we use only the very best ingredients, sourced from our own Bonfire Culinary Garden and other local producers. We use Okanagan ingredients wherever possible, so that our guests are able to enjoy a variety of meals that showcase the very best local food.
We request details on any food allergies or dietary requirements, to ensure all guests enjoy their meals. Our culinary and catering team have prepared unmatched food and beverage experiences for your next meeting or event.
Kelowna Meetings & Events
If you're planning on attending or hosting an event in the Okanagan, The Cove Lakeside Resort offers the ideal setting for your corporate meeting, event or retreat.
We offer a range of venues with beautiful surroundings that set us apart. Whether you're planning a small business meeting or a series of large corporate events, we exceed expectations to ensure that every detail is perfect. In addition to tailored planning, we can arrange a variety of group activities for your event.
Our team at The Cove Lakeside Resort wants to make your meeting, corporate gathering, team building getaway or retreat the best trip imaginable. Contact us to plan a trip that makes you want to keep returning again and again to explore everything our great city and surrounding area has to offer.