Thanksgiving Events & Activities in West Kelowna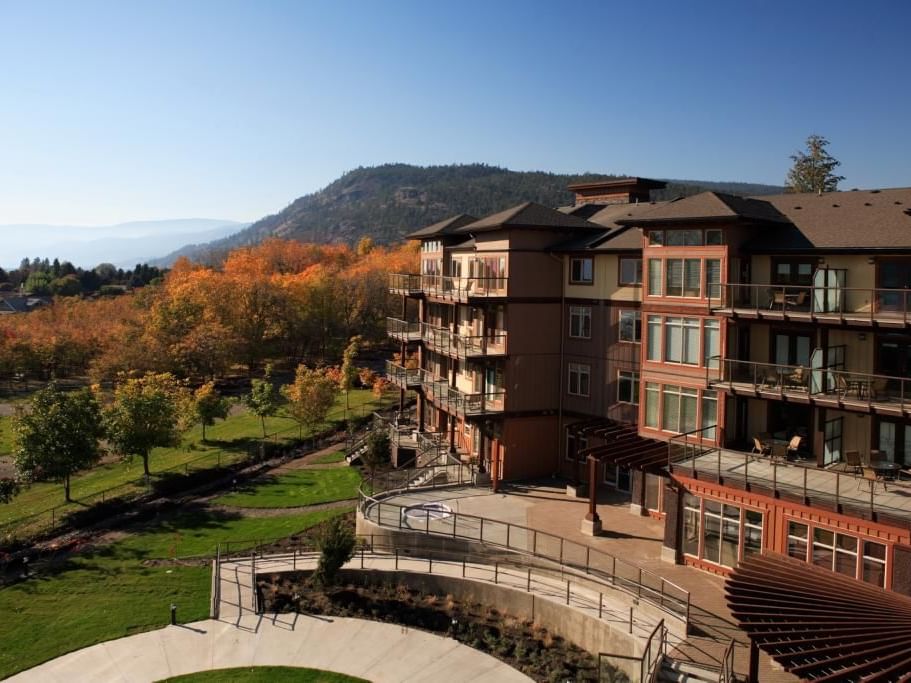 The Okanagan Valley is renowned for being a top vacation destination year-round due to its stunning nature, awe-inspiring mountains, incredible climate and endless activities.
Whether you're planning a Thanksgiving weekend getaway or a holiday staycation, we've compiled a list of activities to do in West Kelowna, BC and surrounding area this Thanksgiving that you can enjoy with your family while staying at The Cove Lakeside Resort.
Family Movie Night
Visit the Landmark Cinemas West Kelowna Encore, just 5 minutes from The Cove Lakeside Resort. Catch a matinee at the Encore Cinema for just $4 a person. Make the most of your movie evening, and opt for a movie playing in 3D, which adds depth that puts you in the thick of the action, whether you're taking a voyage through an undiscovered land or dodging objects that seem to fly into the theatre.
Don't feel like leaving the resort? Our private 18 seat entertainment theatre is available for you to enjoy a movie night. With our TELUS Optik TV - on demand you can access everything from the latest blockbusters to special features such as sporting events. Inquire with front desk about reserving the theatre during your stay.

Wine & Cheese Tasting - October 12 & 13, 2:30pm - 3:45pm
Stroll through the vineyards of Quails' Gate Winery guided by one of our senior wine educators with a welcome glass of wine in hand. Next, enjoy an intimate 45-minute guided wine pairing experience perfectly paired with artisan Canadian cheeses.

Grape Stomping Party - October 12, 1:00pm - 4:30pm
Get this off your bucket list at House of Rose Winery! We've watched babies to beyond eighties jump into our specially made Grape Stomping barrel. Come join the fun!
Bring your entire family, friends and the whole crew. Stomps happen at 1, 2 , 3 and 4 pm. It's free; please consider a donation for the food bank.

Thanksgiving Brunch - October 13, 10:00am - 2:00pm
Celebrate and gives thanks with your family and friends while enjoying a delicious buffet brunch at Bonfire Restaurant in The Cove Lakeside Resort this Thanksgiving.
Call Bonfire Restaurant at 250-707-1810 to reserve your table.
Sip and Dip Workshop - October 13, 11:00am - 7:00pm
What better way to spend your vacation than creating your own scarf with a glass of wine at Volcanic Hills Estate Winery?
We bring the beautiful, ancient art of water marbling to the 21st century by inviting you to be the artist. Come and make your own water marbled silk scarf or art canvas. Each artist chooses their colours and floats the paint one drop at a time on the surface of the water, then uses marbling combs, rakes, or stylus to create the design of their liking. All ages welcome!
Tickets are booked by time slot…for example, 11-11:45am silk scarf. In that time slot we will show you a demonstration, and then you will create your masterpiece! Great memories are made with good friends or family and a little creativity.

Family Art Sunday - October 13, 12:00pm - 4:00pm
Join the Kelowna Art Gallery for an exciting art-making experience. Since 1997, we have welcomed the public every Sunday to engage in creative activities and explore current exhibitions. Through hands-on activities, helpful instruction, and age-appropriate conversation, Family Sundays open up the world of art and artists to children and adults.
The theme for October 13 is Fall Foliage Painting. Taking inspiration from the landscapes of Canadian women artists featured in the exhibition Through Her Eyes, young artists will look to the changing leaves of fall to create a study of warm colours using fluid acrylic paints.

Barrel Blending Sessions - October 13, 2:00pm - 3:30pm
Join Mt. Boucherie Estate Winery's Estate Sommelier for an interactive barrel blending seminar from the components of our 2017 Summit Red. You will compete against your peers to become the blending champion. A blind tasting will be held to judge the final blends with a prize for the winner.
Included in price is a bottle of our 2016 Summit. Gain a new appreciation for the art of assemblage! Limited numbers, so book soon!
Pet-Friendly Accommodations
The Cove Lakeside Resort is the ultimate getaway destination for holidays because you can spend your vacation with your pet. Tranquil garden surroundings, sweeping Okanagan Lake views and warm, contemporary luxury come together to create the most unique and inviting accommodations in the Kelowna area.
The exceptional climate makes it the perfect place to discover the endless outdoor fall pursuits. And the best part is you can bring your dog!
Want to bring your dog with you on your next vacation when you stay at The Cove? Call direct for pet-friendly availability and information.

Thanksgiving at The Cove
Stay at The Cove this Thanksgiving weekend and enjoy gorgeous lake views from our premium lakeview suites!
Contact us for bookings and inquiries at The Cove Lakeside Resort.