10 Okanagan Team Building Activities for Your Next Kelowna Corporate Event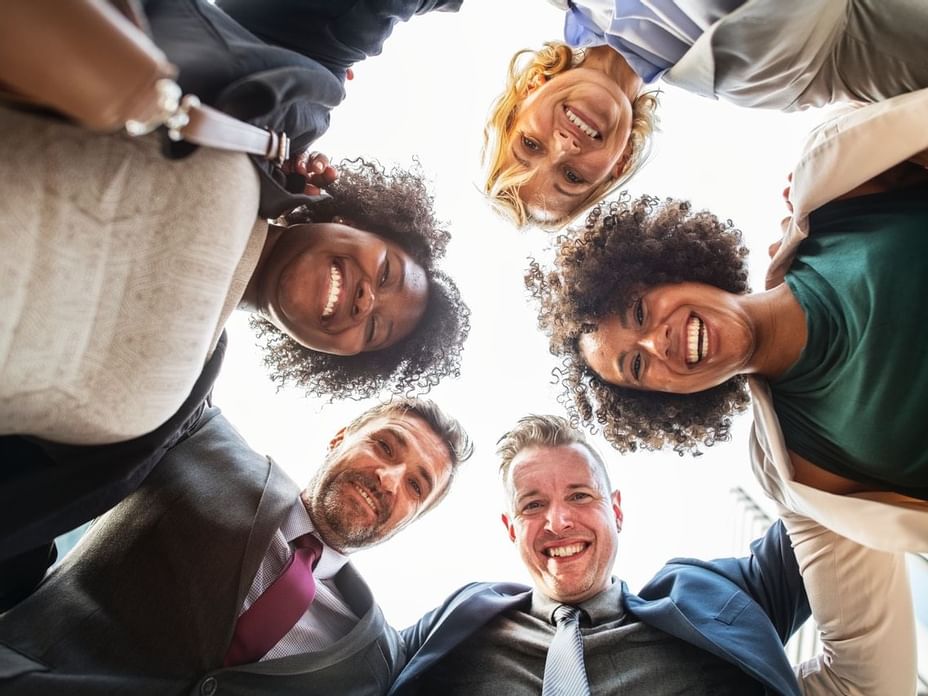 Looking for team building activities and events for your next corporate event in Kelowna? Our partners provide a variety of team building activities and games, corporate event challenges and team building experiences designed to increase team morale and inspire corporate groups.
The Cove team has put together a list of 10 team building activity ideas that will get your group excited about attending your event in Kelowna and drive employee engagement.
1. Build a Boat or Flat Out Afloat
Teams utilize a variety of items or unlikely building materials that they need to build a structure to get them across the water hazard of Okanagan Lake. Teams take to the water in either a race, regatta, sea battle or full-blown adventure to recover sunken treasure. These floating structures sometimes make it, while getting wet is a common occurrence.
2. Survivor Challenge or Survivor Island
This event calls on teams to utilize their strengths to reach common goals and to complete a series of challenges. A mixture of custom designed challenges that test both mental and physical abilities, will exercise your staff's time management skills, strategic thinking, and trust in each other, while fostering camaraderie.
3. Build a Bike or Helping Hands
A truly unique experience for organizations to make a difference in the real world while building team cohesion. Bikes – teambuilding – giving back – amazing kids – what a combo! This activity is amazing at team engagement plus the joy of giving back to some much deserving kids at the end of day. Hoodoo also has the option of assembling artificial hands for donation to a third world country. Any of these people, without your support, would never otherwise be able to afford these items.
4. Build a Racecar - Flat Out Formula One
The ultimate team test, where working effectively and efficiently means milliseconds - the difference between the podium and the pits. Flat Out Formula 1 tests the communication skills, collaboration and resourcefulness of your team whilst constructing the ultimate model kit - an almost full scale Formula 1 racing car!
5. Art Attack or The Big Picture
Check out the creative and artistic talent on your team. In this session, participants will create works of art and exciting designs that can be themed to the particular meeting or company aspirations. It's time to frame up!
6. Scavenger Hunt - Quest Challenge
Our exciting ultimate scavenger hunt brings out the best in your team. This race style activity can be customized for many locations and can add or remove items to create an incredible and exciting team building experience.
7. Hole in One
This is a charity challenge that tasks teams to build their own crazy golf course constructed with non-perishable food items donated by the participants. The game ties in elements of creative resource management, planning and customer relationship management, teams find themselves in the interesting position of designing a section of course for another team to build (and vice-versa). Plan, discuss, build, play and laugh your way through a team activity that gives back, a fun fi I led with rewarding experience for both for the mind and community.
8. Canadiana Games
Have you ever launched a beaver, engaged in the goose egg challenge, or fed a bear? This team building activities is an amazing event to create some serious fun within a group. Mainly an outdoor large scale activity, your team will have an amazing day Canadian style, eh!
9. Chain Reaction
Use this challenging team building activity to develop excellent teamwork and project management skills while stimulating creativity and innovation. Chain Reaction is fast becoming the ultimate team building event requiring proficient project management skills to design and build an intricate sequence of reactions. These ultimately lead to an exciting finale where all the creations are joined together to achieve a spectacular common goal.
10. Go Team
Using the latest in GPS and communication technology, Go Team is the most interactive and versatile application seen on the market. A voyage of discovery along an unknown path, with challenges to complete and knowledge to share as you discover that sometimes it is all about the journey! This competitive, fun and highly engaging activity can be used to enhance any event from a conference training session to a fun learning experience for students. It can be used as an interactive team based treasure trail chaIlenge or as a powerful interactive information delivery system for product launches, exhibitions, museums and art exhibits.
Corporate Team Building Partners
Don't see a particular activity you were looking for? Reach out to our corporate event partners directly or visit their websites for a full list of all activities available and determine what will work best for your group.
We create engaging, inspiring and educational events which get teams communicating and working effectively together. We believe working in a team should be as fun and exciting as the end result. Canada, especially the Okanagan, offers one of the best natural outdoor playgrounds in the world, so get out there and promote well-being within your team; hiking, scavenger hunts, patio drinks, outdoor CSR, crazy golf, boat building. So many options and opportunities to make them smile, improve communication and encourage those relationships to last a lifetime.
Our Corporate Team Building creates TEAM SUCCESS through educational and entertaining corporate team building programs. The Corporate Play People™ innovative concepts provides a variety of games, initiatives and challenges designed to create inspired teams and are full of purpose, passion, and of course, PLAY(aka serious fun). At the Corporate Play People™, we strive to connect people, enhance relationships, increase team communication and ultimately create inspired company cultures.
Our activities offer the perfect opportunity to bond away from the office walls. We guarantee that this bond will return to the workplace and enhance your work day! Tailored to your needs these events can be run from almost any location and are sure to motivate and improve interpersonal relationships of individuals and groups, facilitating greater profitability through inspired teamwork. Events run from 2 hours to a full day and include camaraderie, fun, strategy, trust, time management and more!
Corporate Meetings & Events at The Cove Lakeside Resort
If you're planning on attending or hosting an event in the Okanagan, The Cove Lakeside Resort offers the ideal setting for your corporate meeting, event or retreat.
We are passionate about producing memorable meeting and event experiences. We are exclusive and original, and we take meetings and events to the next level. Most importantly, we save you time and help you shine by offering you a virtual home office in the heart of the Okanagan.
When it comes to offsite events, we can arrange memorable Okanagan experiences that fully capture the essence of the Okanagan lifestyle. In addition to recommending and arranging quality transportation, we can design a range of group experiences, from wine tastings and private dinners to golfing, lake activities, cycling or hiking excursions, and corporate team building activities.
Our team at The Cove Lakeside Resort wants to make your corporate gathering the best trip imaginable. Contact us to plan your next team building trip or team retreat.