6 Kelowna Winter Activities You Don't Want to Miss!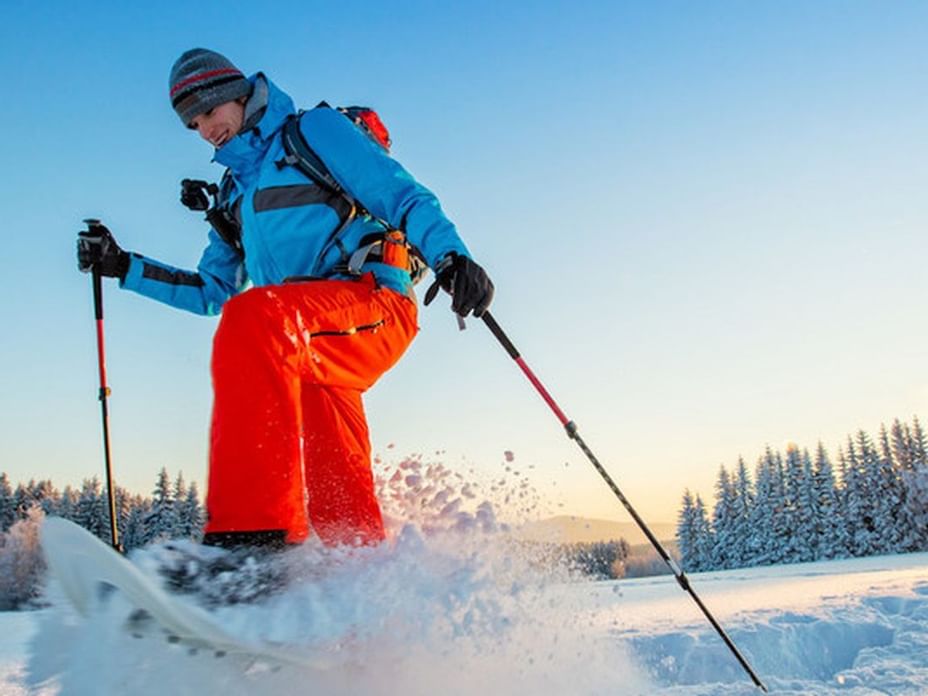 Winter is finally here in the Okanagan!
We absolutely love our sun filled summers here at The Cove, but the colder months bring so many snow inspired activities in West Kelowna that we can't help but get excited at the sight of white flakes falling from the sky! Considering visiting us this winter? Here are six activities you should incorporate into your trip!
1.Sip and Savour Some Ice Wine
West Kelowna is home to the best Chardonnay Ice Wine in the world! Kalala Organic Estates Winery placed first out of 300 entries in 2016 to take home the top award. West Kelowna is home to many other wineries that also offer icewine for you to sample. We recommend stopping by Volcanic Hills Estates, Grizzli Estates, and Quails Gate.
Fun Fact: Ice wine was invented in Canada!
2. Immerse Yourself in Nature with Snowshoeing and Cross Country Skiing
Just fifteen minutes down the road you will find Telemark Nordic Club, one of the top destinations for high level cross country skiing and snowshoeing in Canada. With extensive trails for all skill levels, and even some pet-friendly trails! and rental equipment available, a trip to Telemark is a great way to enjoy the Okanagan Valley covered in a beautiful blanket of snow without braving a black diamond ski run.
3.Find an Adrenaline Rush with Downhill Skiing and Snowboarding
For those who are looking to ski on a steeper slope, The Cove sits directly between two world class downhill options. If you drove north east, you would find yourself at Big White Ski Resort in about an hour and fifteen minutes. If you headed to the south of the Cove, you would be at Apex Mountain Resort with fresh powder as far as the eye can see. After a long day of skiing or boarding you can return to the Cove to warm up over a locally sourced dinner at Bonfire!
4.Ice Fishing, Skating and Pond Hockey!
Ten minutes down the road you will find Shannon Lake, a small body of water that offers big time adventure. Look to catch dinner by dropping a line down a hole in search of a rainbow trout, or join the on ice activities and show off your pond hockey skills. If there is no clear ice at Shannon Lake, you can always head over to Jim Lind Arena for a public skate.
5. Channel Your Inner Chef Ramsey with a Culinary Class
West Kelowna is home to Mission Hill, a winery restaurant that is hailed as one of the best outdoor dining experiences in Canada. In the winter, their restaurant is closed, however they do offer culinary workshops all season long. Discover a deeper passion for food and wine as you learn the techniques and ingredients the Mission Hill chef's use to create world-class, fine dining dishes.
6. Cheer for the Home Team at a Warriors Game!
West Kelowna is home to the Warriors, our local BCHL team. Watch future NHL stars show off their skills and join the crowd in cheering them on. Even though some of the players are highly talented (Stevenson recently invited to Team Canada camp), the ticket prices at the junior A level are still extremely affordable. Gather your friends and family and treat yourself with a bag of popcorn or a hotdog- just don't spill any when you jump out of your seat!
Excited to plan your trip yet? Call us today at 250-707-1800 to book your stay. See you soon!