Top 5 Reasons Winter Weddings in Kelowna are the Best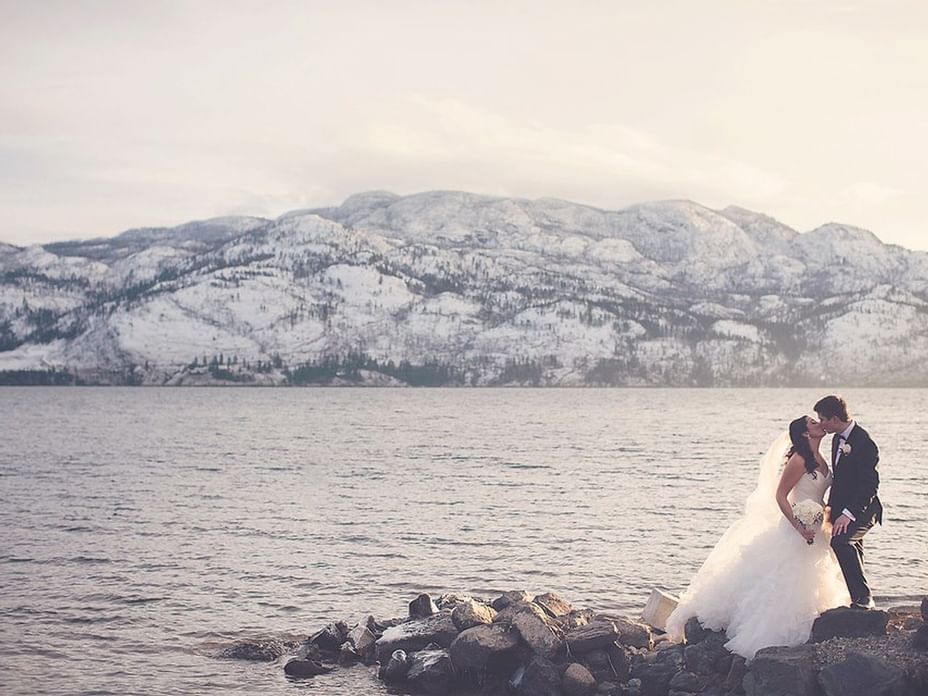 Kelowna is renowned for being a summer destination because of its stunning nature and gorgeous weather. It's no secret that summer in Kelowna is a highly sought after time to tie the knot.
The Cove Lakeside Resort has seen its share of stunning weddings, but what you might not realize is that a cozy winter wedding can be just as enchanting.
While most Canadian cities experience harsh winter conditions, Kelowna experiences mild weather and stunning views of pristine snowy mountain tops. The stunning views from The Cove Lakeside Resort make it an ideal venue for a winter wedding.
Winter weddings are becoming more popular, and it's no surprise. Here are our top 5 reasons why Kelowna is the best winter wedding destination.
Venue Availability

Flawless Look & Fashion

Winter Seasonal Decor & Colours

Kelowna's Stunning Views

Comfort Foods and Local Okanagan Wineries
1. VENUE AVAILABILITY & BETTER RATES
Summers are always booked well in advance throughout Kelowna and at The Cove Lakeside Resort. Competition for venues, accommodations, and guests availability is in high demand.
A winter wedding is a refreshing change for everyone involved, and can be a wonderful way to highlight the holidays.
Take advantage of better rates, and venue availability. If Kelowna is the winter wonderland you've been dreaming of, contact The Cove to discuss wedding plans today.
2. FLAWLESS LOOK & FASHION
During the winter season, you can add layers and choose thicker fabrics to combat the cold, but in during the summer, you risk being overheated. Outdoor winter wedding photos are absolutely flawless if hot and sweaty wedding pictures are a concern.
Winter fashion and gowns can be glamorous. Wear long sleeves, or a strapless gown and accessorize with an embroidered coat, faux fur, or upper arm gloves. Get inspired by these Winter Wedding Gowns.
For the groom and groomsmen, it's far more ideal weather for formal tuxes than the hotter months.
3. WINTER SEASONAL DECOR & COLOURS
Winter weddings are unique, and give the wedding party more room to experiment with colour palettes, decor and theme.
The neutrality of the winter months complements a variety of shades from rustic to glamorous, so any colour will look flawless against winter foliage and make your wedding stand out.
4. KELOWNA'S STUNNING VIEWS & WINTER ACTIVITIES
When Kelowna's mountains are covered in snow, they're absolutely stunning, and make for gorgeous wedding photos.
After the wedding, take advantage of Kelowna's winter activities and enjoy a winter wonderland for your honeymoon.
Ski, ice skate, curl, snowshoe, or just snuggle up around a glowing fireplace. The Cove Lakeside Resort is the perfect location for exploring everything the Okanagan has to offer.
5. COMFORT FOODS AND LOCAL OKANAGAN WINERIES
Winter comfort foods are one of the best things about winter, so just imagine the delicious and endless array of dishes that you could serve at your wedding.
Okanagan wineries produce world class wines. There's even delicious ice wine in the winter months, which would be perfect for your winter wedding.
Take a look at these Breathtaking Winter Weddings that'll inspire you to start planning your wedding winter.
Contact The Cove Lakeside Resort to discuss venue bookings, wedding plans and accommodations for your winter wonderland wedding.