Wine Tours in West Kelowna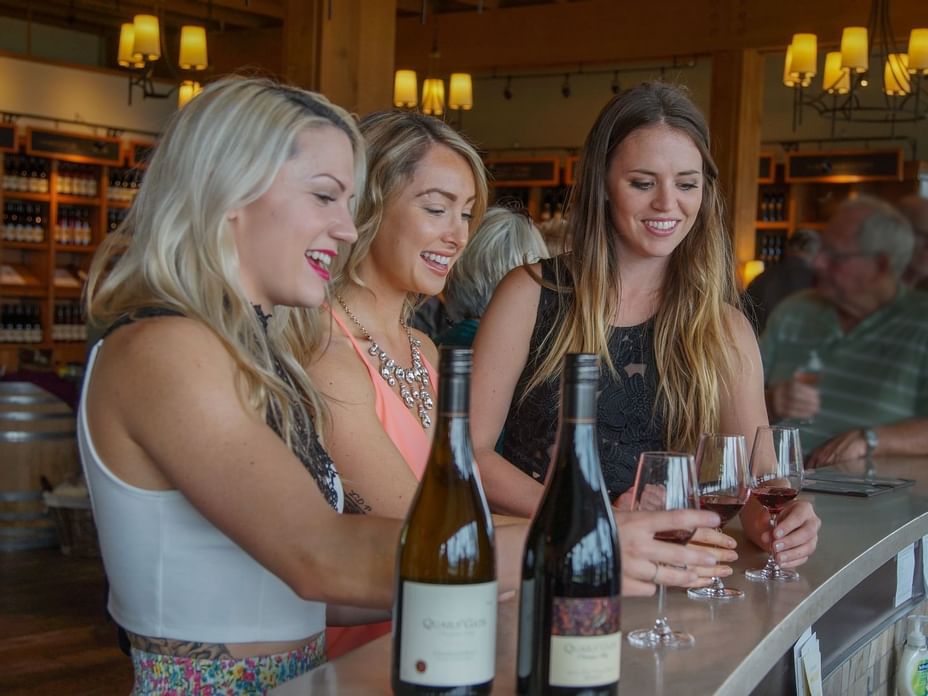 West Kelowna is home to stunning vineyards, world-class wine and extraordinary views of Okanagan Lake and surrounding mountains. Locals and visitors often boast about unparalleled wine tours and wine tasting experiences.
If discovering world-class wine sounds appealing to you, the West Kelowna team at The Cove Lakeside Resort has some suggestions to ensure you make the most of your wine experience!
Westside Wine Trail
The Okanagan Valley is renowned for being an outstanding grape growing region filled with local winemakers, chefs, farmers and artisans. The sun-drenched valley offers world-class vineyards and a vibrant selection of local wines. Spend a day enjoying West Kelowna's Wine Trail and experience exceptional wine from world-class operations to family-run boutique vineyards.
The wineries along the Westside Wine Trail benefit from rich, unique soils that are a mixture of clay, mineral deposits, glacial till, volcanic rock and large boulders. Vineyards in the area are procured from Mt. Boucherie which is the remnant of an ancient volcano and a spectacular focal point in the community.
The grape varieties that are planted in the region include Pinot Gris, Pinot Blanc, Chardonnay, Riesling, Sauvignon Blanc, Gewürztraminer, Auxerrois, Chasselas, Chenin Blanc, Zweigelt, Maréchal Foch, Pinot Noir, Gamay Noir, Cabernet Franc, Lemberger, Merlot, Cabernet Sauvignon, and Optima.
Wine Tour Companies in West Kelowna
The Westside Wine Trail is a wine touring destination. The best way to truly experience West Kelowna's abundance of wine and vineyards is by booking a reputable wine touring company. Each wine touring company offers a unique experience that aims to create a memorable wine experience. Here are a few companies we recommend to make the most of your wine tasting tour.
Okanagan Wine Country Tours
Okanagan Wine Country Tours is dedicated to offering unforgettable wine tours in West Kelowna and throughout the wine region. They offer a knowledgeable, professional and friendly experience that makes for an exceptional wine tasting experience.
Their Sampler Tour West Kelowna is a great introduction to the Westside Wine Trail. With Okanagan Wine Country Tours, you will explore three world-class wineries along the Westside Wine Trail including Quails Gate Estate winery and soak in the scenic region.
Uncorked Okanagan
Uncorked Okanagan Wine Tours offers a selection of scenic and iconic wine tours to ensure guests experience the best of the Westside Wine Trail wineries and beyond.
Discover Canada's world-renowned wine region with this exceptional wine tour company. Take a journey through some of the Okanagan's best wine tours where you will explore hidden gems, boutique wineries, and some of the most awe-inspiring scenery West Kelowna has to offer.
If you're visiting the Okanagan Valley, book with The Cove Lakeside Resort and take advantage of the Westside Wine Trail. A day spent at any of these wineries is certain to leave a lasting memory.