Your Okanagan Wedding at The Cove Lakeside Resort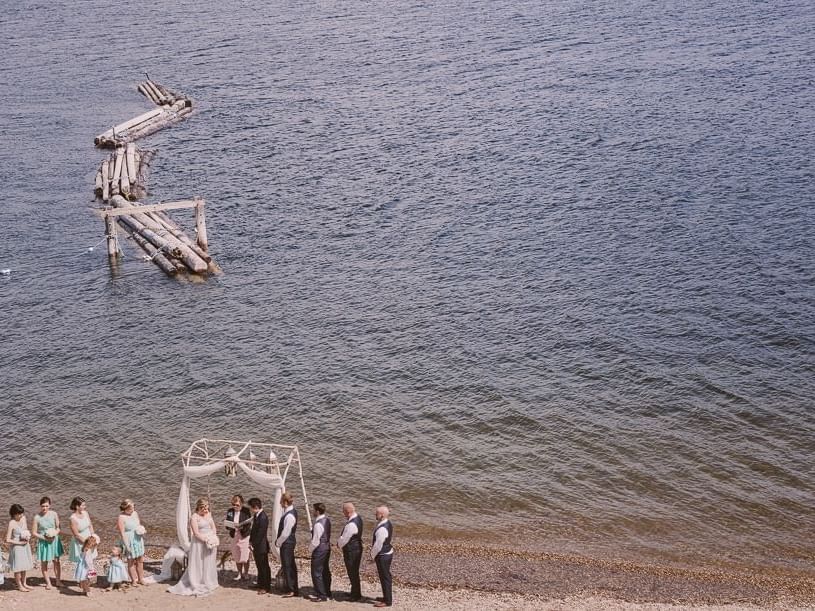 Congratulations on your engagement! The four-season beauty and tranquility of West Kelowna provide an unforgettable backdrop any time of year for your wedding at The Cove Lakeside Resort. Overlooking Okanagan Lake, framed by landscaped gardens and mountain views, we provide a wedding venue unlike any other in British Columbia.
Wedding Ceremonies & Receptions
We offer three distinctive locations for outdoor ceremonies: the beautifully landscaped Gellatly Wedding Gardens, which overlook the water, our unique Culinary Gardens, and a beach venue right on the shores of Okanagan Lake. Each of these extraordinary wedding ceremony venues can seat up to 150 guests.
The Gellatly Gardens feature a handcrafted garden oasis of winding walkways and flowering shrubs that lead you to the wedding arbour and ceremony venue. Open skies, hillside vistas, pasturing thoroughbreds and towering sunflowers encapsulate our Culinary Gardens and ceremonial meadow. Our beach venue is a picturesque sandy beach on the shores of Okanagan Lake, which make this The Cove's Signature ceremony venue.
Indoor receptions can be hosted in our stunning Grand Reserve Ballroom beneath the 20-foot vaulted ceilings. Enjoy a private terrace and an earth-toned room featuring exposed wood beams and plenty of warm, natural lighting. You'll experience dining for up to 100 seated guests or a cocktail dance party for up to 160 guests.
Indoor receptions can also be hosted in our Gellatly Reserve room, which features a window wall with a view of the Gellatly Gardens and Okanagan Lake beyond for up to 70 seated guests, or in our Library Reserve room, with floor-to-ceiling windows that infuse the space with inspiring natural light.
The Cove Lakeside Resort also offers the perfect outdoor reception spaces. In the Gellatly Garden Marquee, delight in an alfresco dinner under the big tent and surrounded by Mother Nature. This venue provides you with a true garden dinner experience for up to 150 seated guests. Take pleasure in an outdoor cocktail party for up to 80 guests on our Gellatly Terrace, providing scenic views of our garden oasis and the historic Gellatly Nut Farm.
Luxury Lakefront Accommodations for All Your Wedding Guests
Guests never have to worry about being late for your big day when they stay here at the resort. The Cove provides luxurious, spacious 1, 2 and 3 bedroom suites offering an array of scenic views, perfect to accommodate larger families and weddings.
Without ever leaving the resort, guests can enjoy indulgent massages and body treatments at the Spa at The Cove, swimming in our two outdoor lakefront pools and hot tubs, fresh cuisine at our onsite restaurant, exhilarating watersports at Lakesurf Okanagan, outdoor fire pits and BBQ's and more. Spacious, condo-style suites, a fully equipped fitness center, pet friendly rooms, tennis courts and a putting green complete The Cove experience.
Located near a variety of golf courses, wineries, outdoor recreational activities and more, there's never a dull moment during your stay and plenty of perfect spots for a bachelor or bachelorette party. Come discover a truly unforgettable destination among Kelowna waterfront hotels and experience all the Okanagan has to offer.
The Cove Lakeside Resort Okanagan Wedding Experience
We strive to ensure that your wedding is the most perfect day imaginable so that you and your guests will continue returning again and again for anniversaries and other trips, to explore everything our great resort and surrounding area has to offer. Our team at The Cove Lakeside Resort is passionate about producing extraordinary and memorable wedding experiences.
We look forward to providing you with a picture perfect Okanagan wedding experience here at The Cove Lakeside Resort.
Contact The Cove Lakeside Resort to discuss your Okanagan Destination Wedding.