The Cove Kicks Off Fall with Reds, Whites & Blues!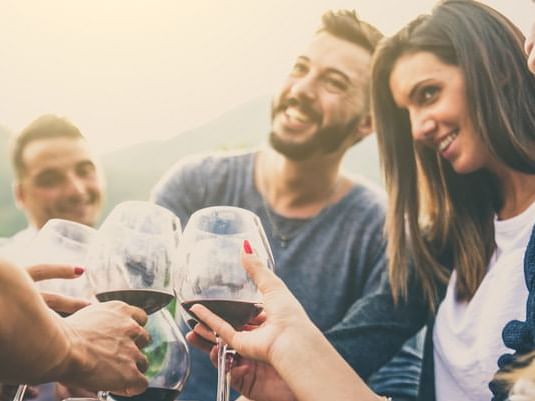 As the last days of summer slip away, the perfect time to embrace all the wonderful aspects of an Okanagan autumn has arrived. The air has begun to clear, the leafs will soon transition into their warm fall hues and the winemakers are ready to initiate their harvests. Comfy sweaters, pumpkin spice lattes and deep glasses of velvety red wine all help with our transition into the cooler days ahead. Here at The Cove, we like to kick off the season of fall with a bang and celebrate with an event we call "Reds, Whites, & Blues".
What and When is "Reds, Whites & Blues"?
Reds, Whites & Blues is a fantastic fusion of Okanagan wine, food and music, all placed on the beautiful waterfront of Okanagan Lake. Whether you are a Okanagan resident or are simply passing through on vacation, this is a party you don't want to miss. Yes, as the name implies, you will be able to indulge in a wide range of world class red wines, white wines and blues music simultaneously!
This is will be the 6th annual event and we plan to keep the momentum rolling with a plethora of amazing local wineries. Keep your eye open for these local rockstars:
These businesses have a reputation in Kelowna for delivering some of the most tantalizing and delicious food and wine in the entire region.
This year, the event will be held on Friday, September 29th, with reception starting at 6:30PM. The reception will run for approximately one hour, with the Chef Stations opening up at 7:30PM. At 9:30PM there will be a cash bar that will open up, which will fuel the dance party which will last until approximately 11:30PM.
Clues About the Blues
The perfect pairing to an epic event is an atmosphere full of soulful harmonies, rhythms and musical injections. Once again, the amazing Sherman (Tank) Doucette will headline the show and is sure to have the crowd grooving along to the wavering tunes of his harmonica.
Sherman Doucette is originally from Saskatchewan but left there early on with only his love for music and a twenty dollar bill. In Vancouver, Sherman became infatuated with the Chicago blues style and found his calling playing in a series of local blues bands. Sherman has since played with some legendary musicians such as John Lee Hooker, Albert Collins, Sonny Land Slim, Pinetop Perkins, Jim Byrnes and Long John Baldry.
Today he proudly calls the Okanagan his home where he is constantly performing and recording with his band, "TANKful of Blues". He promises to bring incredible passion and conviction to the event and will give attendees a new found love for blues.
How Do I Get Tickets?
The best way to secure your pass to Reds, Whites & Blues is to call The Cove Office at (250)- 707-1814. We have package deals starting at $219.00 per person, which is based on double occupancy. This package includes one night stay in a luxurious bedroom suite and a ticket to the event.
If you were looking to simply attend the event without staying over, the individual ticket price is $88.00 per person. Of course these packages and tickets are subject to availability and applicable taxes.
Whether this is your first time joining us at The Cove, or you have visited many times before, we are confident that you are going to love our private lakefront resort. The dramatic views of Okanagan Lake set the stage for an amazing experience every time. To learn more about our resort or to start planning your future getaway, visit our Home Page to check availability.
We hope to see you at the party! RSVP on Facebook. Bring your dancing shoes and prepare your palate for a barrage of incredible flavours. Reds, Whites & Blues won't be the same without you - call today!